What do you read?
I'm not that picky, but I'd say my main go to for reading is romance; paranormal, chick lit, urban fantasy, etc. I like to escape. But I do have a passion for the classics so I have been known to spend days immersed in Jane Austen (which lets face it is old school chick lit).
I'm partial to a good thriller, although I haven't read one in ages. I'm also quite fond of a good bit of literature.
Every year I attempt to read 60 books in a year. If you're interested you can see my lists of books read since 2007 here.
…some of our book collection…
Why do you read?
Good question… I've been reading since I was young, my Dad actually learned to read at the age of 21 when I was a only a small child and as he learnt to read he taught me to. So it's always been something I cherished because it was something he taught me and we did together. I read now as an adult because I really prefer it as a medium of entertainment over most of the stuff on television and the internet can only hold my attention for so long.
Reading for me is really about escapism and letting your mind be taken on an adventure. It's also a great way to increase your vocabulary for Words with Friends!
Do you read for work or for pleasure and is there any difference between the two?
I definitely believe that there's a difference between the two. I read as part of my job, so that's reading as work, but predominantly I read for pleasure. I think there's a huge difference; I tend to see any reading that I'm being made to do as a chore and unless the material is really captivating I resent having to read it. (I'm like a petulant child that way!)
Do you read to your kids or to someone else's kids?
We don't actually have children, although that's set to change mid June with the arrival of our first child. I have big plans of reading to our child(ren), in fact one of the first things I purchased to celebrate our pregnancy was a book. I've been slowly collecting books to populate the nursery library. I've been hunting for all the books that my husband and I read and loved as children. Reading to our kids is one of the things I'm more looking forward to doing.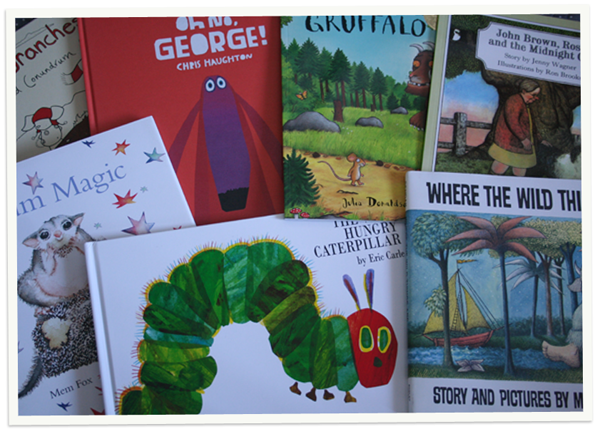 …nursery library taking shape…
Can you do the Safety Dance while reading?
I'm a pretty flexible reader but I'm not 100% sure that in my current condition I could pull this off.
Are you a rabid Discworld/Twilight/Harry Potter fan and would you attend a flash mob dressed as your favourite character?
How to answer this without being lynched… I appreciate the wonderful things for encouraging reading in teenagers that these books have done but I'm a little scared for the future generations if they consider Twilight to be well written. But each to their own… As for the flash mob, I think those days are behind me.
Angie is the creative genius behind GnomeAngel; a blog filled with snippets of life from the Australian Capital. She's happily married to an imperfectly perfect man and shares her house with a Beagle named George, a golden retriever named Tyson and a screeching budgie called Reg. If you'd like to find out more about her you can stalk her on Twitter.